CHEAP SALE WITH SOME NEW ITEMS ADDED INCLUDING SUGARPILL NEON PIGMENTS, ARCHIES GIRL NEXT DOOR LIPSTICK, ROUGE BUNNY ROUGE LIPSTICK & MORE!!

I have a TON of feedback on makeupalley, which you can view here:
www.makeupalley.com/swap/tokens.asp/u=torridgrrrl
If you are viewing my sale on mua blogsales, you can contact me on makeupalley. My username is: torridgrrrl
Thanks!!
* SHIPPING: USA SHIPPING ONLY FOR THIS SALE!!! Domestic shipping will start at $3.00 (flat rate) unless your package weights more than 13 oz., if so shipping may increase.
* $8 minimum (before shipping)
* PLZ LEAVE YOUR PAYPAL ADDY FOR INVOICING. IF YOU DON'T LEAVE EMAIL TO HOLD, I MAY MOVE ON. (If you'd rather pm me your paypal addy that is fine) Invoices must be paid within a couple hours (unless we have made prior arrangements) or I will move on.
* Paypal is the only method of payment accepted. Confirmed addresses only, unless we have worked together before. PAYPAL FEES WILL BE ADDED TO EACH TRANSACTION
* Insurance is optional (at buyers expense) but *recommended*, as I am NOT responsible for loss/damage once the package leaves my hands.
LORAC femme fatale palette barely used no brush
NARS exotic dance duo tested 1x $13
MAC fresh green mix MES duo $7
MAC hold that pose MES (from glitter & ice) $8
MAC water MES from heavenly creatures $8
SUGARPILL elektrocute neon pigment love buzz tested 1x like new! $12
SUGARPILL elektrocute neon pigment hi-viz tested 1x like new! $12
MAC archies girls girl next door lipstick tested 3x SIB $11
ROUGE BUNNY ROUGE succulence of dew dissolved in dreams NIB
ESTEE LAUDER electric sheer lip shine sheer desire $3
NARS puerto vallarta multiple tested 1x, like new! $18
DEBORAH LIPPMANN happy birthday glitter polish mini BN $5
ROCK & REPUBLIC femme fatale noir red gloss tested 2x $5
MAC tender baby tendertone approx. 70% $6
VINCENT LONGO duo lip pencil naked/chocolate tested 1x $2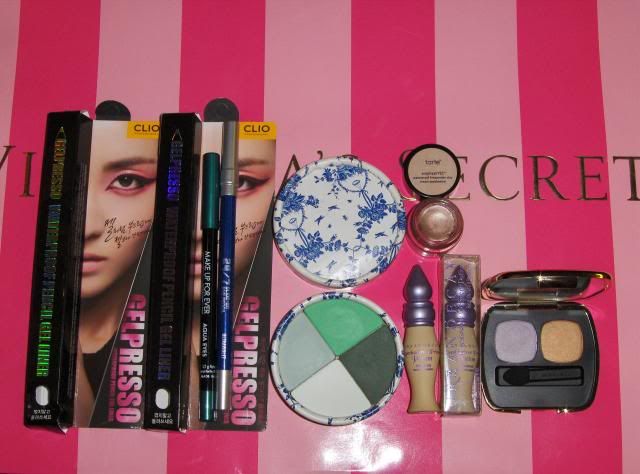 CLIO gelpresso waterproof pencil gel liner (awesome korean brand!) bloody sweet tested 1x SIB $8
CLIO gelpresso waterproof pencil gel liner (awesome korean brand!) bloody angel tested 1x SIB $8
MAKE UP FOR EVER aqua eyes waterproof eyeliner 52L BN (retails $18!) $7
URBAN DECAY 24/7 eyeliner ultraviolet tested 1x, like new! $9
STILA *RARE* vintage e/s quad in ceylon green tested 2x $14
TARTE shimmering taupe waterproof cream eyeshadow tested 1x $6
URBAN DECAY eden primer potion deluxe mini $4
URBAN DECAY eden primer potion deluxe mini (in box) $4.50
BAREMINERALS ready eyeshadow duo 2.0 the phenomenon tested 1x (retails $20) $5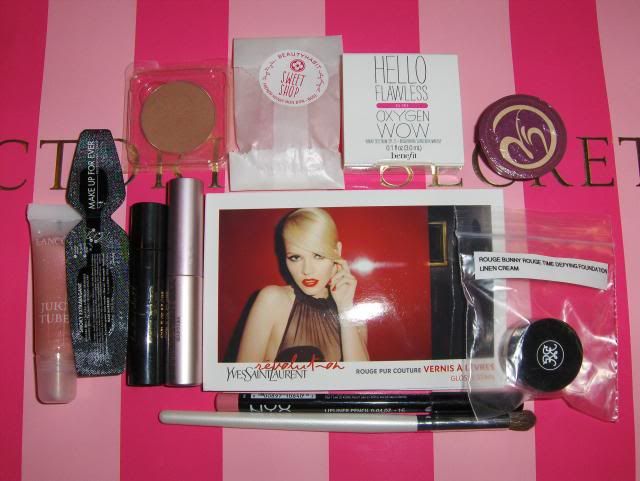 RANDOM MINIS LOT: juicy tube, too faced better than sex mascara, ysl babydoll mascara, make up for ever smoky extravagant mascara, nyx lip pencil, elf brush, rouge bunny rouge & benefit foundation samples, stila eyeshadow refill pan & more! $6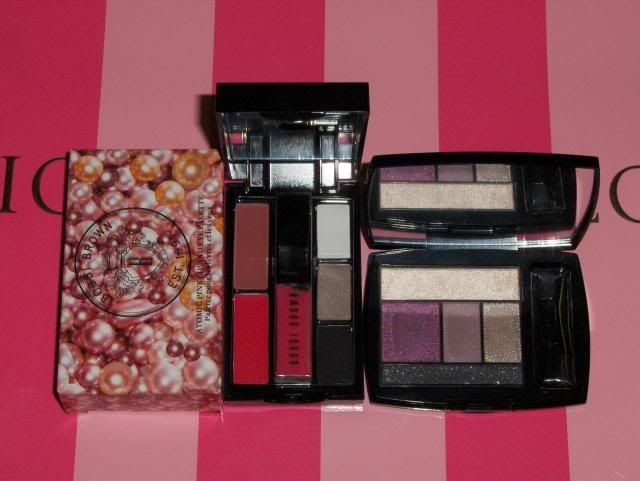 BOBBI BROWN limited edition atomic pink lip & eye palette NIB $22
LANCOME full size mauve cherie eye brightening all in one 5 shadow & liner palette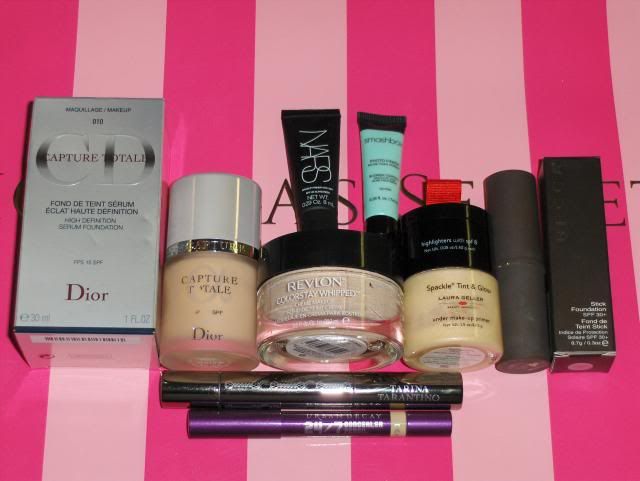 DIOR capture totale high definition serum foundation shade 010 tested 2x (retail $80!) $32
NARS primer mini BN $4
SMASHBOX photo finish acne treatment primer mini BN $2.50
REVLON colorstay whipped foundation ivory tested 1x, like new $7
LAURA GELLER spackle tint & glow tested a few times $4
BECCA stick foundation sherbet approx. 80% remaining (retails $44!) $15
BECCA stick foundation sherbet NIB (retails $44!) $21
TARINO TARANTINO hyperlight under eye concealing/brightening pen tested 2x lightly (retail $22!) $6
URBAN DECAY 24/7 concealer pencil DEA tested a few times but never sharpened $7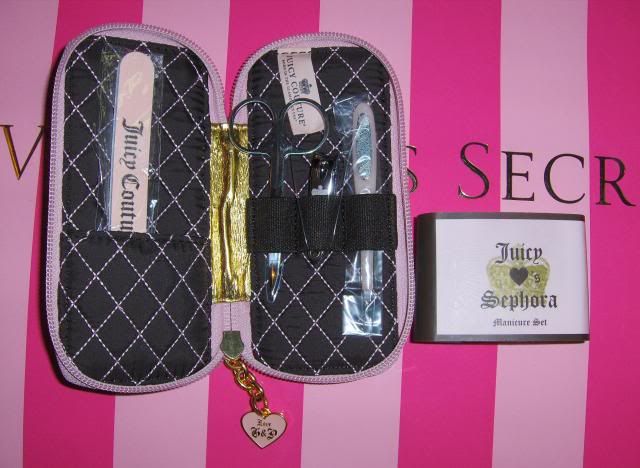 JUICY COUTURE juicy loves sephora manicure kit BN (retails $54) $24
AVENE eau thermale antirougeurs fort redness relief concentrate tested 1x, like new in box! (retails $46) $27
CAT COSMETICS leopard print wonder puff (retail $12.50 & sold out!) $6
HOT TOPIC 2 pair shoelaces (hello kitty & stars) BN (retail $5.99 and sold out!) $2.50
VICTORIA'S SECRET PINK baby blue earbuds headphones NIB $8
FREDERIC FEKKAI highlight care illuminating hair cream tested 1x lightly, like new (retail $25) $11
PHYTO phytokeratine reparative serum for damaged ends (retails $30) tested 1x SIB AMAZING reviews! $15
FREDERIC FEKKAI highlight care illuminating hair cream tested 1x lightly, like new (retail $25) $11
AVEDA light elements smoothing fluid generous .5 fl. oz. deluxe sample BN $1.50
AVEDA light elements smoothing fluid generous .5 fl. oz. deluxe sample BN $1.50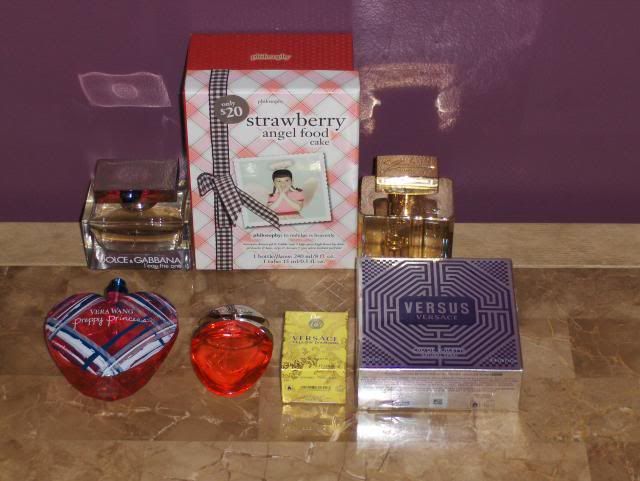 DOLCE & GABBANA L'eau the one 2.5 fl. oz. 80% full $30
PHILOSOPHY strawberry angel food cake gift set NIB $14
GUCCI premiere 2.5 fl. oz. tested 1x like new $49
VERA WANG preppy princess 3.4 fl. oz. 80% full (no cap) $16
BVLGARI omnia coral.84 fl. oz. edt jewel charm spray (retails $48) $25
VERSACE yellow diamonds mini NIB $3.50
VERSACE versus eau de toilette spray 3.4 fl. oz. NIB $34