Last sale was quite a while ago.

Feedback: http://www.makeupalley.com/p_nerdygirl

Shipping mainly to US and Canada, I will consider international if you are willing to pay the difference in shipping and gift the payment.
Shipping will be 2.50 for one item, .50 extra after that. Four items or more will be 4.00 regardless. (Those little envelopes get pricey after a while!)
Paypal only, will ship when money transfers into my bank account.

Prefer 10.00 minimum, negotiable.
First come, first serve. If I don't receive payment within 24 hours it goes to the next person in line.
Prices are mostly firm, but on multiple item purchases I may be willing to haggle. It never hurts to ask.
Please reply with what you want, and your paypal address.

Stila Topaz Kahjal liner - 5-6x: 5.00
MAC Siahi fluidline - used a handful of times with clean brush, perfectly creamy: 12.00
Painterly paint pot, 1/4 removed with spatula, used a few times: 7.00



MAC The Faerie Glen - 70%ish: 5.00
MAC Impassioned - 85-90%: 8.00
MAC Vegas Volt - 95%: 8.00 *PEND*
MAC Lavender Whip - 85%: 10.00
MAC VG Cyndi - 70%, lost vanilla smell: 7.00
MAC VG Nicki - 85%: 8.00
MAC Asian Flower - 85%: 8.00



BECCA Enigma palette, DC'd (retailed 45.00), used a handful of times: 30.00



Too Faced Milk Chocolate Soleil Bronzer - Used 8-10x: 10.00
Too Faced Sephora BI 500pt perk Eye Love palette - used a few times: 6.00
MAC Bite of an Apple blush, previously depotted and returned to original packaging. Used 6-8x, small nick from depotting at top - 20.00
Tarte Natural Beauty AC Blush - 10.00
Tarte Flushed AC Blush - 10.00

Kat Von D eyeshadow Palettes - each used a few times. Ludwig's black shadow shattered and repressed, Gypsy not for sale. 10.00 a piece:
Top: Ludwig, True Love
Bottom: Angeles, Truth, Memento Mori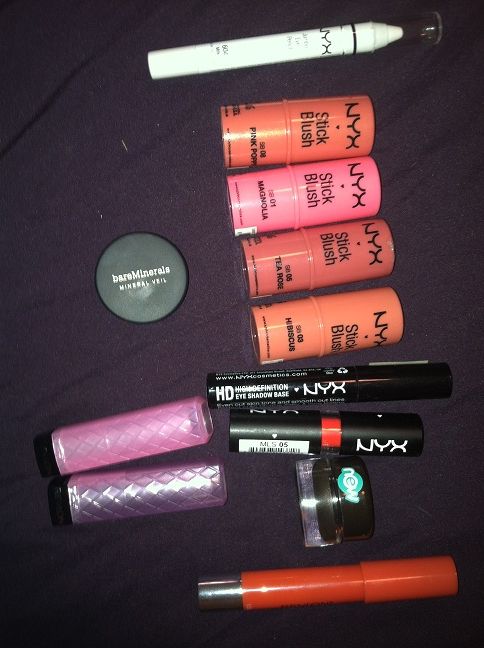 Drug store Lot, all items used a handful of times at most - 10.00 for the lot
NYX Milk JEP, Nyx Stick Blushes in Pink Poppy, Magnolia, Tea Rose and Hibiscus, Nyx HD primer, Nyx Matte lipstick in Indie Flick, Essence London Baby gel liner, Revlon kissable balm stain in rendezvous, bareminerals mineral veil sample size, revlon lip butters in cupcake and gumdrop

Sugarpill Goldilux - used 1x: 8.00*PEND*



Blonde, Black, Hot Pink w/ Black and Pink swirl synthetic dreads by Triplesix. Worn approx. 3 times, 80 count dread set (40 on each side): 65.00, shipping is free for this item.

Thanks for looking, please reply with your paypal address. Shipping charge will be added to your total in the invoice.