MEGA HUGE SALE!!! CHANEL, BY TERRY, WAYNE GOSS, NARS, DIOR, MAC, ETC!!! PLUS TONS OF ITEMS FOR $2 OR LESS!!!
ISO: Chanel accent blush, Nars malta lipliner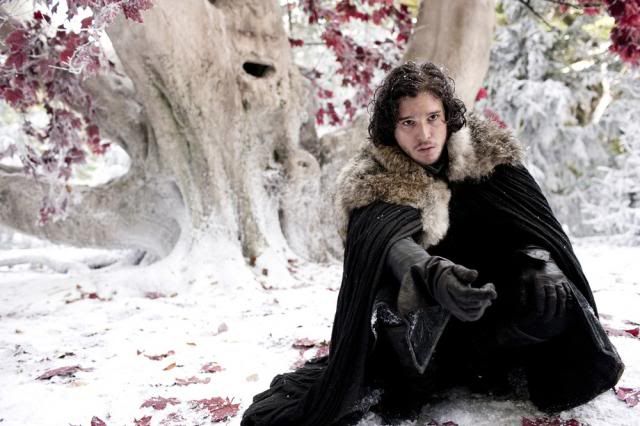 I have a TON of feedback on makeupalley, which you can view here:
www.makeupalley.com/swap/tokens.asp/u=torridgrrrl
* SHIPPING: USA SHIPPING ONLY FOR THIS SALE!!! Domestic shipping will start at $3.00 (flat rate) unless your package weights more than 13 oz., if so shipping may increase.
* $8 minimum (before shipping)
* PLZ LEAVE YOUR PAYPAL ADDY FOR INVOICING. IF YOU DON'T LEAVE EMAIL TO HOLD, I MAY MOVE ON. (If you'd rather pm me your paypal addy that is fine) Invoices must be paid within a couple hours (unless we have made prior arrangements) or I will move on.
* Paypal is the only method of payment accepted. Confirmed addresses only, unless we have worked together before. PAYPAL FEES WILL BE ADDED TO EACH TRANSACTION
* Insurance is optional (at buyers expense) but *recommended*, as I am NOT responsible for loss/damage once the package leaves my hands.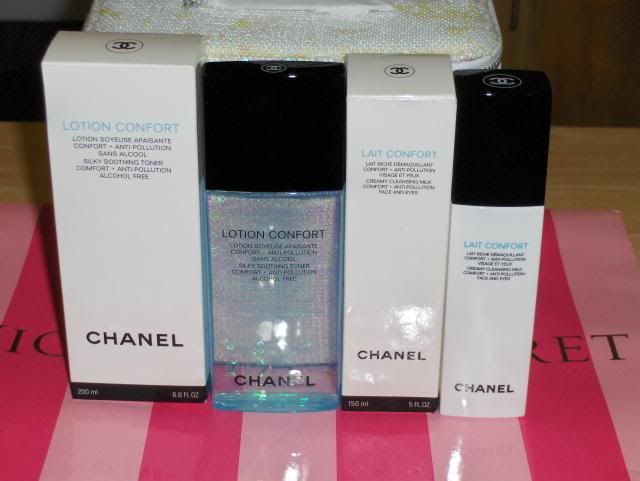 CHANEL lotion confort silky soothing toner 6.8 fl. oz. NIB (retail $45!) $25
CHANEL lait confort creamy cleansing milk 5 fl. oz. NIB (retail $45!) $25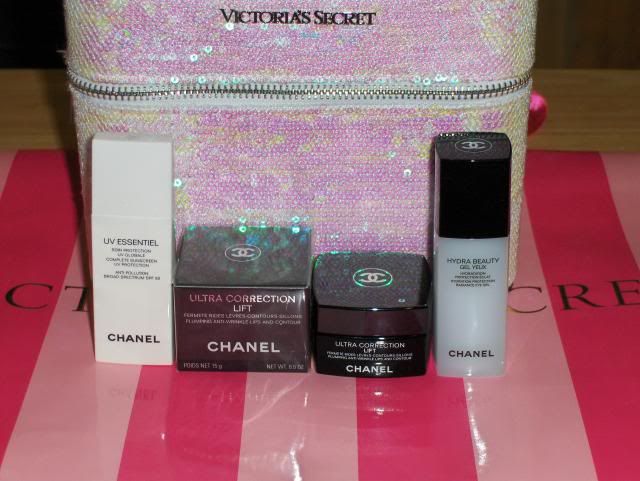 CHANEL uv essentiel anti-pollution broad spectrum spf 50 NIB (tester) (product retails $55!) $24
CHANEL ultra correction lift plumping anti-wrinkle lips & contour NIB/sealed (retail $85!) $40
CHANEL ultra correction lift plumping anti-wrinkle lips & contour tested 2x lightly (retail $85!) $29
CHANEL hydra beauty gel yeux NIB (tester) (product retails $60!) $30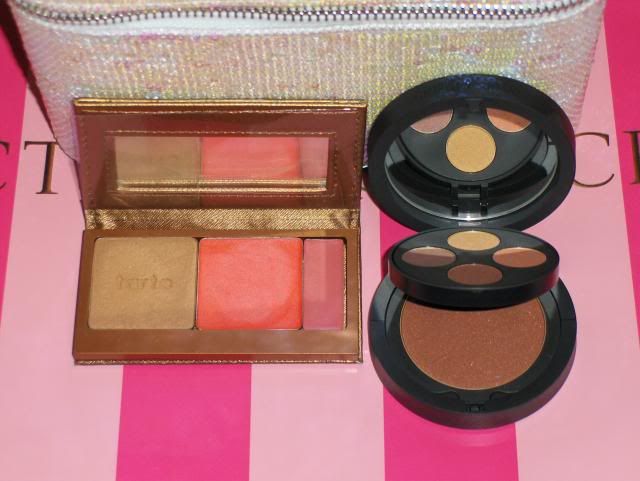 TARTE infinite glow palette park ave princess bronzer, tipsy cheekstain, mayflower lip, tested 1x (retail $30) $10
GIORGIO ARMANI bronze mania deep mediterranean palette w/ bronzer & 4 e/s NIB (retail 85!) $30
CHANEL lift lumiere smoothing eye contour concealer rose lumiere tested a few times (retail $46!) $18
CHANEL alchimie nail polish NIB (retail $27!) (google for swatches/pic looks off) $15
CHANEL rouge allure secrete NIB (retail $35!) $20
CHANEL rouge allure velvet l'exuberante NIB but teensy nick (retails $35!) $20
CHANEL rouge coco legende NIB (retails $35!) $20
CHANEL rouge coco shine secret NIB (retails $35!) $20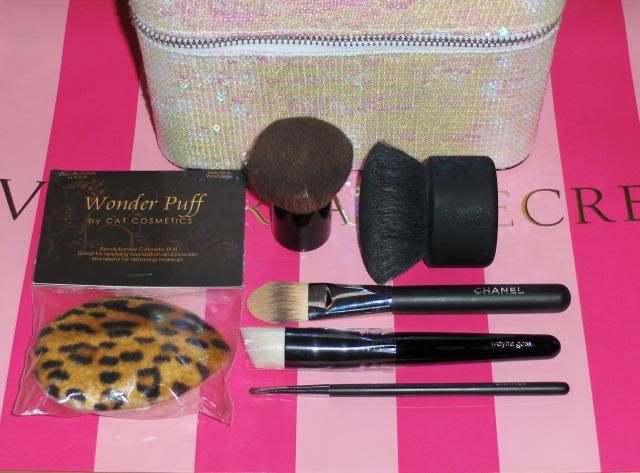 CAT COSMETICS leopard print wonder puff BN $6
CHANEL touch up brush (large kabuki) tested a few times retails $45! $20
NARS botan brush tested a couple times (retail $75!) $29
CHANEL foundation brush #6 like new (lettering perfect) (retails $45!) $20
WAYNE GOSS brush #1 brand new in wrapper (retail $45!) $32
CHANEL eye contour brush #14 tested a few times (lettering perfect) (retail $28!) $14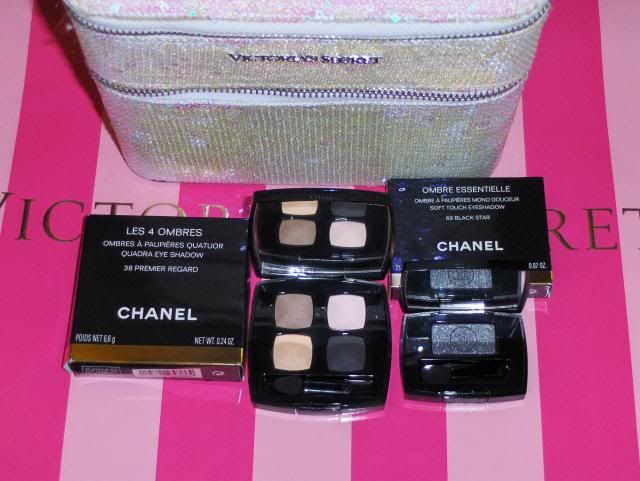 CHANEL premier regard quadra eyeshadow lightly tested SIB (retail $59!) $25
CHANEL ombre essentielle soft touch eyeshadow black star NIB (retail $29.50!) $14
CHANEL berry rose ombres contraste eyeshadow duo (tester) tested 1x $5
CHANEL quadrille quadra eyeshadow (tester) tested 1x $15
MAC fresh green mix mineralize eyeshadow duo $7
MAC hold that pose! mineralize eyeshadow (from glitter & ice) $8
MAC water mineralize eyeshadow (from heavenly creatures) $8
STILA vintage quad in ceylon green (my back-up) tested 2x $12
SUGARPILL elektrocute neon pigment hi-viz tested 1x $12
SUGARPILL elektrocute neon pigment love buzz tested 1x $12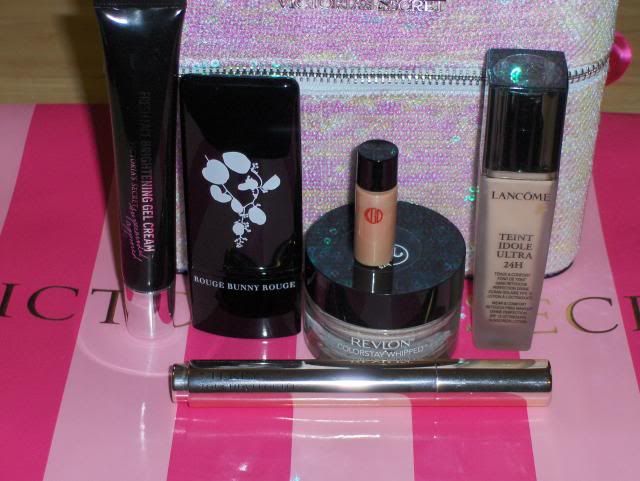 VICTORIA'S SECRET brightening gel cream primer tested 1x $6
ROUGE BUNNY ROUGE sketches on water tinted moisturizer adansonia (lightest) tested 2x (retail $42!) $20
KOH GEN DO mini illuminator $2
REVLON colorstay whipped foundation in ivory tested 1x $7
LANCOME teint idole ultra 24hr. foundation 100 ivoire N (lightest) tested 2-3x max (retail $45.50) $26
BY TERRY touche veloutee highlighting concealer #1 porcelain tested 1x (retail $58!) $34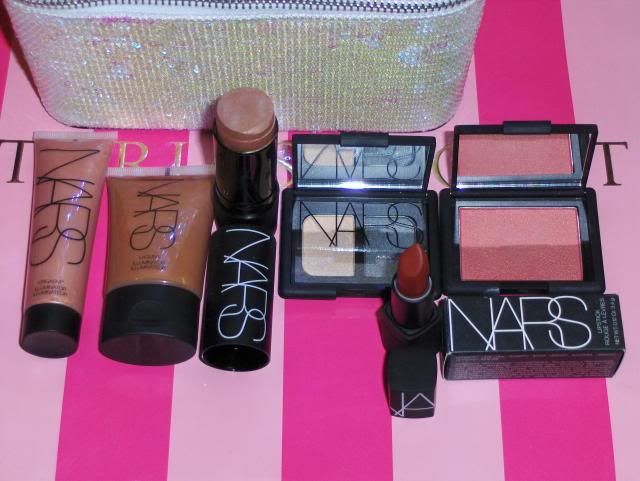 NARS orgasm illuminator (retail $30!) tested 1x lightly $15
NARS laguna illuminator (retail $30!) tested 2x lightly $14
NARS st. barts multiple (my back up) tested a couple times (retails $39!) $15
NARS tzarine duo eyeshadow tested 1x (retail $35!) $15
NARS outlaw blush tested a couple times (retail $30!) $18
NARS rouge basque lipstick tested 2x lightly SIB (retails $26) $12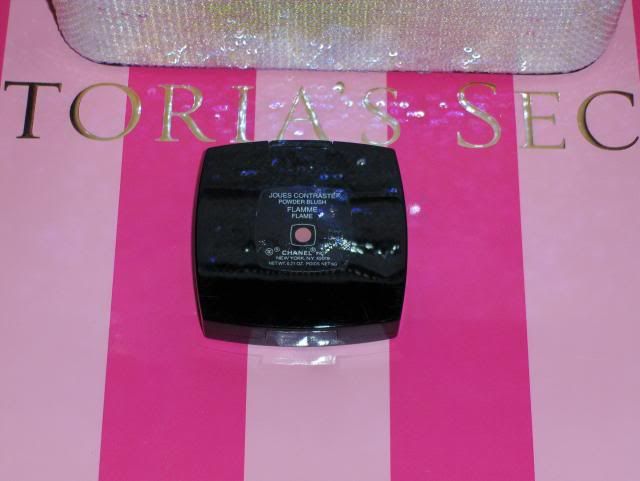 CHANEL frivole jc blush BN (No box) $27*PEND
CHANEL flame jc blush (discontinued/RARE color!) 90% remaining $25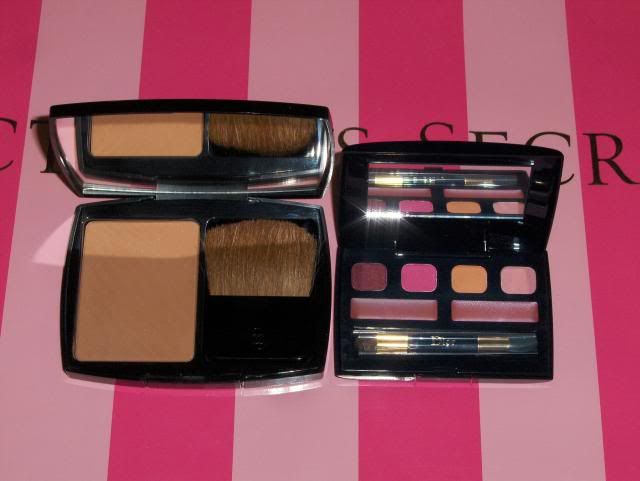 CHANEL soleil tan de chanel terre epice bronzing powder 85-90% (case shows a bit of wear) (retails $50!) $18
DIOR *vintage* lipstick & eyeshadow gwp palette BN $4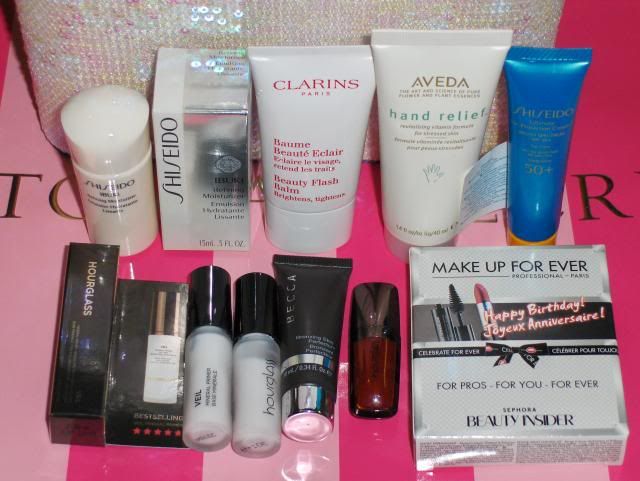 SHISEIDO ibuki moisturizer mini NIB $5
CLARINS beauty flash balm large mini BN $5
AVEDA hand relief 1.4 oz. BN (retail $9) $3.50
SHISEIDO ultimate sun protection cream broad spectrum spf 50+ .64 oz. mini BN $3
HOURGLASS veil mineral primer .16 fl. oz. mini NIB $5
HOURGLASS veil mineral primer .16 fl. oz. mini $5
BECCA bronzing skin perfector mini tested a teensy dab $3
HOURGLASS icon opaque rouge mini BN $5
MAKE UP FOR EVER smoky extravagant mascara & rouge artist natural N9 minis set NIB $6
URBAN DECAY eden primer potion mini NIB $3
BENEFIT bad gal lash mascara mini BN $4
BENEFIT they're real! mascara mini BN $4
DOLCE & GABBANA passion eyes mascara mini NIB $5
CLIO gelpresso waterproof gel liner (awesome korean brand!) bloody angel tested 1x SIB $6
CLIO gelpresso waterproof gel liner (awesome korean brand!) bloody sweet tested 3x SIB $6
URBAN DECAY 24/7 eyeliner ultraviolet tested 1x, like new $8
URBAN DECAY 24/7 eyeliner eldorado sharpened 1x $8
LAURA MERCIER kohl eye pencil black violet tested 1x (retail $22!) $4
STILA stingray smudge stick eyeliner tested 1x (retail $20!) $7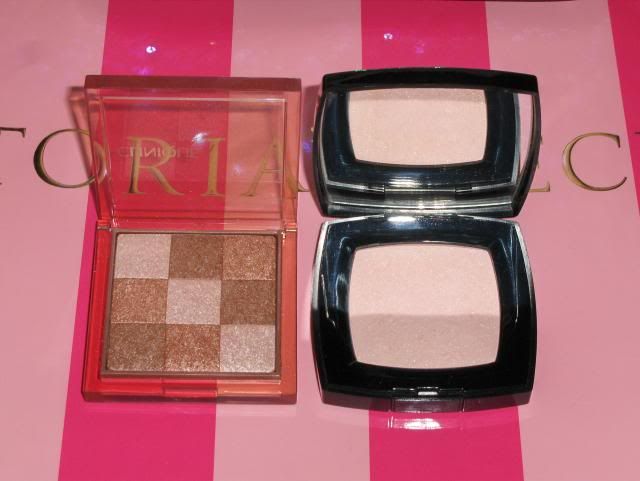 CLINIQUE shimmering tones powder pink chocolate tested 1x SIB (retail $32.50!) $12
CHANEL rose blossom poudre universelle compacte powder (sparkly!) (Discontinued/RARE!) retail $45! $18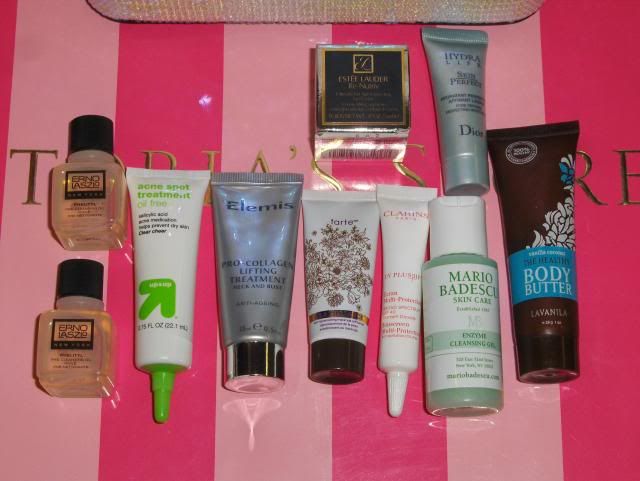 $2 OR LESS SALE ITEMS!!
ERNO LASZLO phelityl pre-cleansing oil mini BN $2
ERNO LASZLO phelityl pre-cleansing oil mini BN $2
UP & UP acne spot treatment full size tested 1x, like new $2
ELEMIS pro-collagen lifting treatment neck & bust $2
ESTEE LAUDER re-nutriv ultimate lift age correcting eye cream mini NIB $2
DIOR hydra life skin perfect pore refining moisturizer mini BN $2
TARTE brazilliance maracuja self tanner mini BN $2
CLARINS uv plus hp broad spectrum spf 40 mini BN $1.50
MARIO BADESCU enzyme cleansing gel deluxe sample 1 oz. $2
LAVANILA vanilla coconut body butter only opened to sniff $2
MOARR $2 OR LESS SALE ITEMS!
REVLON peach parfait lip butter tested 2x $2
REVLON pink truffle lip butter tested 2x $2
WET N WILD megalast lipstick cherry bomb tested 1x $1.50
WET N WILD megalast lipstick sugar plum fairy BN $1.50
TARTE amazonian butter lipstick creamy rose BN but teensy nick $2
TARTE amazonian butter lipstick tulip BN $2
MILANI runway eyes eyeshadow palette $2
REVLON darling just bitten kissable balm stain tested 2x $2
PHILOSOPHY kiss me color gloss tested 1x $2
BENEFIT watts up highlighter mini $2
BENEFIT sunbeam highlighter mini $2
BENEFIT sugarbomb gloss mini $2
DR JART water fuse bb cream mini $1.50
YSL rouge volupte perle spellbinding violet tested 1x like new in box (retail $35!) $18
YSL rouge pur couture 01 le rouge tested 1x (retail $35!) $14
DIOR full size gwp vintage lipstick #478 silk roses BN $5
LANCOME fashion icon gwp lipstick $1.50
ROCK & REPUBLIC red gloss tested 2x $5
SHISEIDO benefiance lip treatment approx. 50-60% (retail $36!) $4
MAC rythm lipglass (from temperature rising) tested 1x SIB $9
LANCOME gloss in love fizzy rosie tested 1x SIB (retail $27!) $12
AVON permanent vacation bronzer NIB (3 available) $2.50 each
AVON sunny mosaic bronzer NIB $2.50
LOT #1: all brand new deluxe samples! chanel rouge coco shine, skincare, eye makeup remover, mascara, etc! $12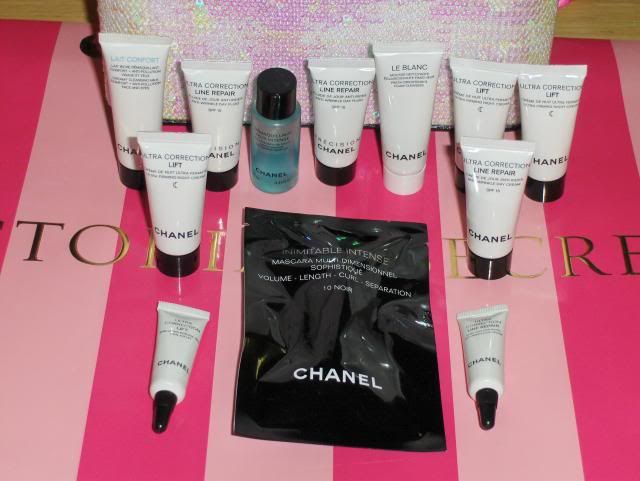 LOT #2: all brand new deluxe samples! chanel skincare, eye makeup remover, mascara, etc! $12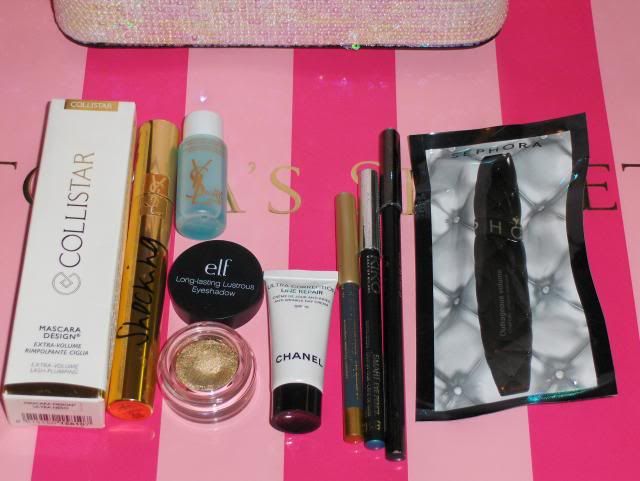 LOT #3: ysl shocking mascara, eye makeup remover, elf shadow, kiko & guerlain eye pencils & other goodies! $12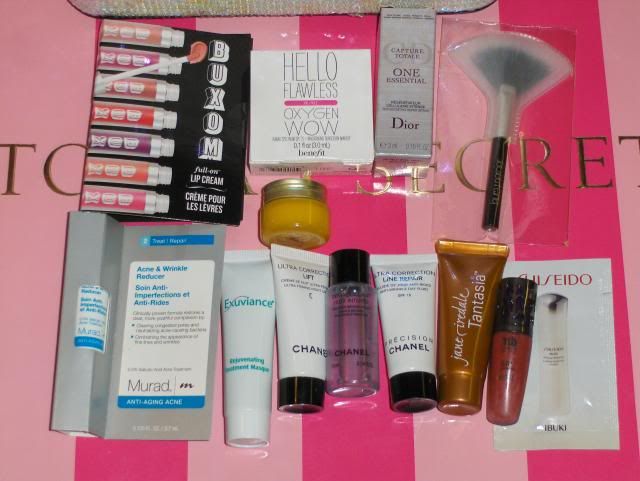 LOT #4: deluxe samples lot! l'occitane anti aging cream, buxom lip cream, laura mercier mini fanbrush, chanel ultra correction lift & eye makeup remover, dior serum, ud gloss, shiseido ibuki sample & more! $12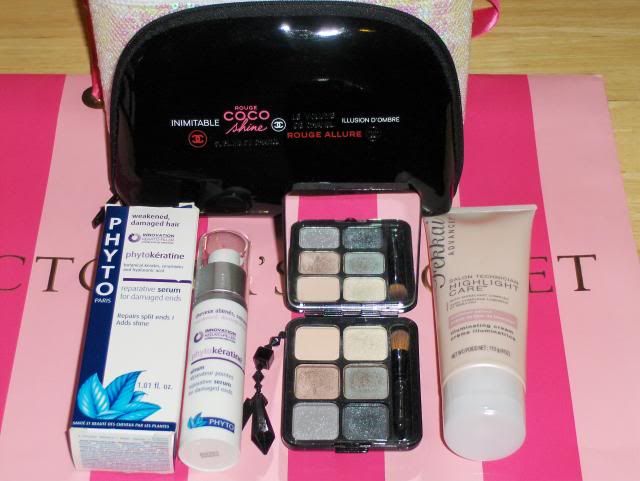 CHANEL black makeup bag $12
PHYTO phytokeratine reparative serum for damaged ends tested 1x, like new in box (retails $30!) amazing reviews! $14
MAC formal velvet smoked eyes palette tested a few times RARE!! $25
FREDERIC FEKKAI highlight care illuminating cream for color treated hair tested 1x, like new (retail $25!) $10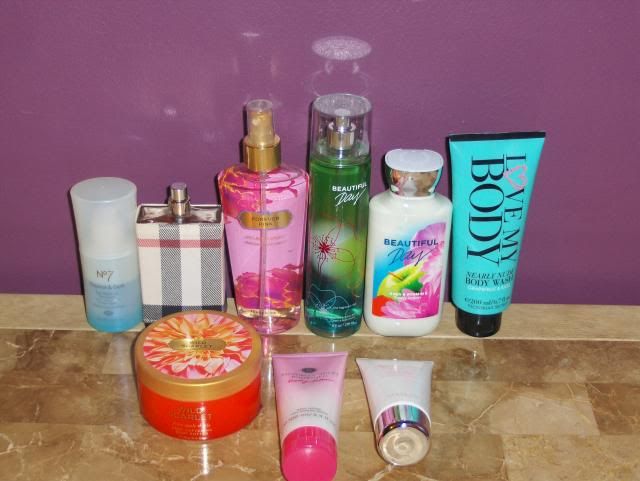 BOOTS No. 7 eye makeup remover 60% $4
BURBERRY london eau de parfum 3.3 fl. oz. (tester/no lid) BN but packaging slightly imperfect $15
VICTORIA'S SECRET forever pink mist BN $5
BATH & BODY WORKS beautiful day mist BN $5
BATH & BODY WORKS beautiful day lotion BN $5
VICTORIA'S SECRET love my body nearly nude body wash BN $5
VICTORIA'S SECRET wild scarlet body butter tested 1x lightly, like new $5
VICTORIA'S SECRET bombshell lotion 3.4 fl. oz. BN $5
GUERLAIN my insolence lotion 2.5 fl. oz. $4
SEPHORA pantone universe metallic green duochrome makeup bag BN $5
DIOR vintage pink barrel makeup bag w/ removeable mirror in side pocket BN $5
NARS andy warhol marilyn makeup bag BN $5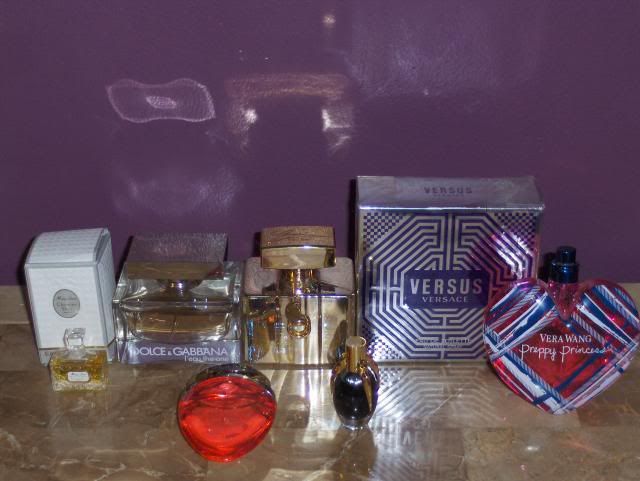 DIOR *vintage* miss dior edt mini NIB $5
DOLCE & GABBANA l'eau the one 2.5 fl. oz. 80% full (retails $87!) $29
GUCCI premiere 2.5 fl. oz. tested 1x, like new (retails $105!) $48
VERSACE versus 3.4 fl. oz. NIB $32
VERA WANG preppy princess 3.4 fl. oz. 80% full (no cap) $16
BULGARI omnia coral .84 fl. oz. (retails $48!) $24
LADY GAGA fame mini BN $3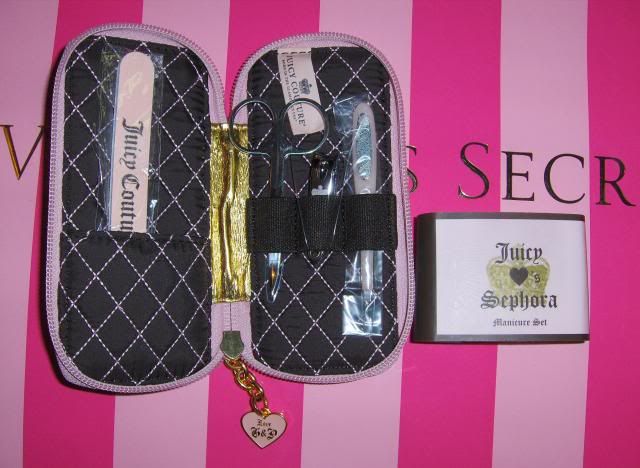 JUICY COUTURE juicy loves sephora manicure kit BN (retails $54) $24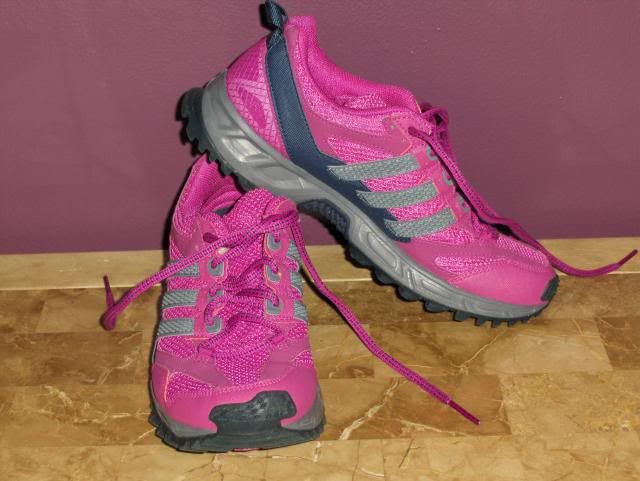 ADIDAS kanadia trail bright magenta pink/purple & gray running/trail shoes size 8.5
These were worn literally 2 times, and are in perfect, like new condition! $38 shipped within USA