SPEND $20 OR MORE AND CHOOSE A FULL SIZE GIFT!
***
SCROLL TO BOTTOM OF SALE TO SEE GIFTS!
***
NEW ITEMS ADDED INCLUDING NARS BLUSH, DIOR CAPTURE TOTALE FOUNDATION & MORE! LOTS OF STUFF FOR $2 & $4!

ISO: mac 226 brush
I have a TON of feedback on makeupalley, which you can view here:
www.makeupalley.com/swap/tokens.asp/u=torridgrrrl
IF YOU ARE VIEWING THIS SALE ON MUA BLOGSALES, YOU CAN MESSAGE ME ON MUA! USERNAME: TORRIDGRRRL
* SHIPPING: USA SHIPPING ONLY FOR THIS SALE!!! Domestic shipping will start at $3.00 (flat rate) unless your package weights more than 13 oz., if so shipping may increase.
* $8 minimum (before shipping)
* PLZ LEAVE YOUR PAYPAL ADDY FOR INVOICING. IF YOU DON'T LEAVE EMAIL TO HOLD, I MAY MOVE ON. (If you'd rather pm me your paypal addy that is fine) Invoices must be paid within a couple hours (unless we have made prior arrangements) or I will move on.
* Paypal is the only method of payment accepted. Confirmed addresses only, unless we have worked together before. PAYPAL FEES WILL BE ADDED TO EACH TRANSACTION
* Insurance is optional (at buyers expense) but *recommended*, as I am NOT responsible for loss/damage once the package leaves my hands.
ALL ITEMS IN THIS PIC ARE $2 each!
BENEFIT it's potent eye cream deluxe mini NIB $2
TWILIGHT eclipse lanyard collectible NIP $2
KAT VON D mini eyeliner puro amor BN $2
KAT VON D mini eyeliner runaway BN $2
KAT VON D mini eyeliner fools gold BN $2
PRADA reviving eye cream BN full size $2
TARTE clean slate poreless 12 hr. perfecting primer mini BN $2
ESTEE LAUDER full size day glow sheer cheekcolor stick 01 sunshine 85% remaining $2
MAYBELLINE full size color whisper oh la lilac tested 1x $2
AVEDA light elements smoothing fluid generous .5 fl. oz. deluxe sample BN $2 AVEDA light elements smoothing fluid generous .5 fl. oz. deluxe sample BN $2 LANCOME genifique youth activating concentrate deluxe mini BN $2
LA MER the radiant serum sample BN $2
MAYBELLINE full size baby lips neon balm berry bomb tested 1x $2
AMORE PACIFIC treatment enzyme peel deluxe sample NIB $2ALL ITEMS IN THIS PIC ARE $4 each!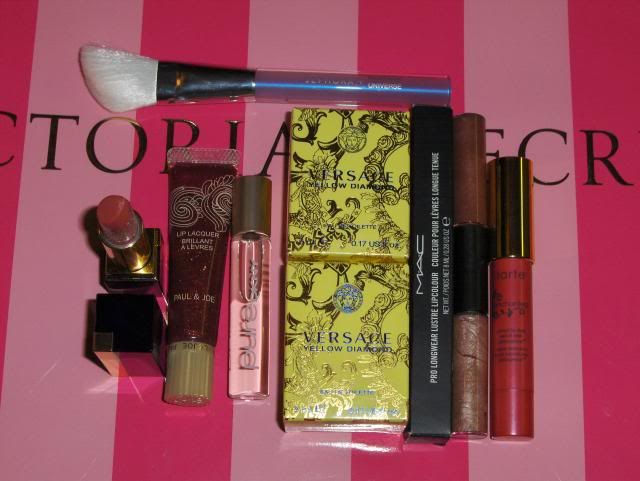 SEPHORA pantone universe iridescent handle angled blush brush $4
ESTEE LAUDER sheer desire glitter bedecked lipstick $4
PAUL & JOE lip lacquer shade 002 BN $4
DONNA KARAN pure dkny a drop of vanilla rollerball BN $4
VERSACE yellow diamonds mini NIB $4
VERSACE yellow diamonds mini NIB $4
MAC boss brown/slave to pink pro longwear lipcolor tested 1x SIB $4
TARTE lipsurgence lip stain in enchanted (gold cap instead of silver)( retails $24!) $4
NARS shadows trio BN $15
NARS desire blush BN $18
NARS exotic dance duo tested 1x $16
NARS chelsea girls pure matte lipstick BN $14
STILA cool trio tested 1x $7
BECCA shimmering skin perfector in opal .5 fl. oz. BN $7
GLAMGLOW youthmud tingle exfoliate treatment mini BN $5
DEBORAH LIPPMANN happy birthday glitter polish .27 fl. oz. BN $6
DIOR capture totale high definition serum foundation shade 010 tested 2x (retail $80!) $40
GUERLAIN coup de foudre eyeshadow quad barely swiped (retail $60 & HTF!) $49
BOBBI BROWN atomic pink lip & eye palette NIB & LE $22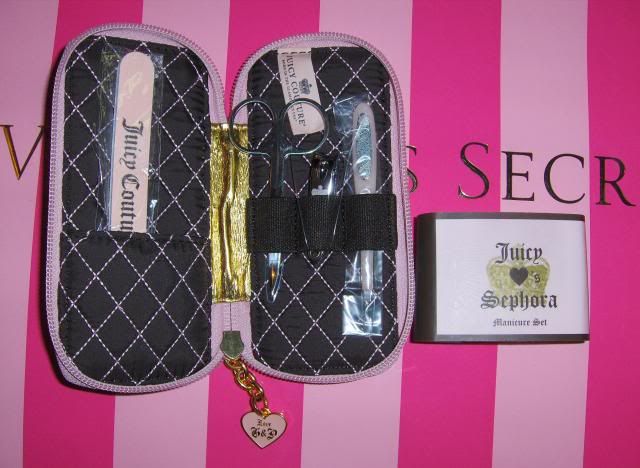 JUICY COUTURE juicy loves sephora manicure kit BN (retails $54) $24
AVENE eau thermale antirougeurs fort redness relief concentrate tested 1x, like new in box! (retails $46) $28
CAT COSMETICS leopard print wonder puff (retail $12.50 & sold out!) $7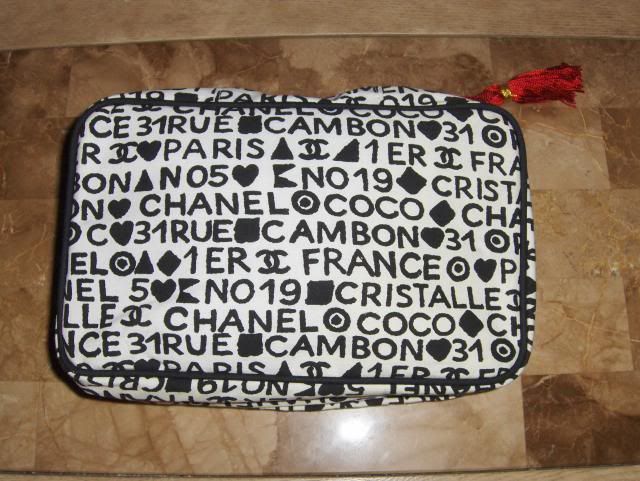 Brand new vintage chanel large zip around makeup/travel bag. RARE! Approx. measurements are 10" X 6" X 3". This will be $27 shipped within USA.
PHYTO phytokeratine reparative serum for damaged ends (retails $30) tested 1x SIB AMAZING reviews! $15TOM FORD shade & illuminate intensity 1 SIB tested 2x lightly (comes w/ box & pouch) (retail $75) $60
NARS silent night eyeshadow tested 1x (retail $24) $6
CYBER COLORS eyeshadow #14 (bright yellow) FREE w/ $20 purchase, just ask!MAC water MES (heavenly creatures) tested 1x $10MAC hold that pose! MES from glitter & ice collex (retail $21) $10MAC fresh green mix MES tested 1x $7MAC feminine edge fluidline SIB tested 1x $9TARTE emphasEYES amazonian clay waterproof eyeshadow shimmering taupe w/ tarte brush $10 for bothROCK & REPUBLIC noir red gloss tested 2x $6
ANASTASIA lash genius waterproofing topcoat for lashes deluxe mini NIB $5
NARS tender night velvet matte lip pencil tested 1x (retail $25) $12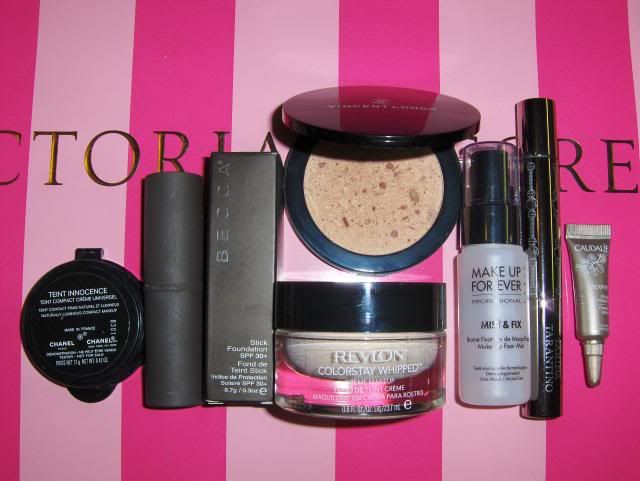 CHANEL teint innocence naturally luminous compact makeup tested refill 10 albatre 40% remains $3BECCA stick foundation sherbet approx. 80% remaining (retails $44!) $17BECCA stick foundation sherbet NIB (retails $44!) $22VINCENT LONGO cassata face & body bronzer $4REVLON colorstay whipped foundation ivory tested 1x, like new $7
MAKE UP FOR EVER mist & fix makeup setting spray BN (retails $12!) $7
TARINA TARANTINO eye dream hyperlight undereye brightener tested 2x lightly (retail $22!) $7CAUDALIE vinoperfect firming serum deluxe mini BN *FREE w/ $15 purchase, just ask!
VERSACE versus eau de toilette spray 3.4 fl. oz. NIB $35BVLGARI omnia coral.84 fl. oz. edt jewel charm spray (retails $48) $26
DKNY pure dkny a drop of vanilla rollerball .25 fl. oz. BN $4
HOT TOPIC 2 pair shoelaces (hello kitty & stars) BN (retail $5.99 and sold out!) $3
VICTORIA'S SECRET PINK baby blue earbuds headphones NIB $8FREDERIC FEKKAI highlight care illuminating hair cream tested 1x lightly, like new (retail $25) $12GWP ITEMS: SPEND $20 OR MORE, AND CHOOSE ONE ITEM FROM THE FOLLOWING PIC AS A FREE GIFT WITH YOUR PURCHASE!! WHILE SUPPLIES LAST!